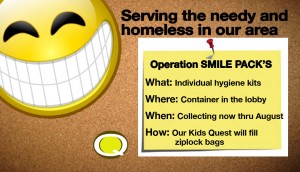 As a church that believes in helping others that are in need, we are joining forces with other churches to help serve the Homeless in our area. You can be a part of this by bringing in some of the items below so that we can put together travel packs for the Homeless.
Items to bring
tooth brush
tooth paste
dental floss
deoderant
bar soap
 shampoo
*All items should be travel size
We will have containers in the lobby to drop off items. If you want more information you can speak to Jim Guyer, email (info@faithisaquest.com), or call the church office.